Appetizers
California Collars
Large Steak Cut onion rings, deep fried golden brown. So tasty they would make the hangman crack a grin!
Cheeze Twigs
These twigs ain't for buildin'. Mozzarella cheese rolled in bread crumbs, fried up & served with red sauce or ranch.
Cheeze Curds
Nuggets of Wisconsin white cheddar cheese lightly breaded and deep-fried. Served up with red sauce or ranch....Sooo good!
Fried Shrooms
Mushrooms soaked in beer batter, fried-up, served up steamin', side of ranch.
Smoked Whitefish Dip
Smoked whitefish, fresh from Bell's fishery, blended and baked with Chip's special spices until piping hot, served with salty tri-colored tortilla chips.
Kick'n Black Bean Dip
Black beans, corn, onions blended with cheddar cheese and sour cream, baked 'til its got a crusty top, scoop it up with multi-colored tortilla chips.
Chick'n Strips
Tender chick'n strips, deep-fried golden brown, served with Bar-B-Q sauce or ranch. Everyone likes 'em.
Dixie Wings
Jumbo chick'n wings tossed in one of our delicious sauces. Served with blue cheese dressing and celery sticks. Choose a sauce: Original Dixie Hot, Asian Ginger Zinger, Maple Bacon, Tangy BBQ or Habanero Sweet Heat.
Spinach Artichoke Dip
Spinach & artichokes mixed up with some cream cheese and other stuff, baked 'til just right, salty tortilla chips for dippin'
Poutine
Crispy French Fries topped with cheese curds and brown gravy. Available with pulled pork on top.
Jalapeno Cheddar Corn Nuggets
Fire roasted corn, jalapenos, red peppers and a creamy blend of cheddar & mozzeralla all coated in a light tempura batter.
Sandwiches & Burgers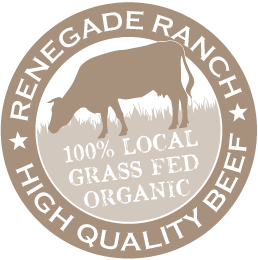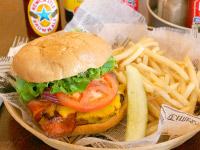 Cowboy Steak-Burger
A 1/2 lb. juicy 100% pure Angus beef steak-burger cooked the way you like it. Add bacon and cheddar for a real treat.
Bison or Organic Beef Burger
1/3 lb Bison or organic beef patty cooked to your liking.
Western BBQ Steak-Burger
A 1/2 lb. juicy 100% pure Angus beef steak-burger topped with crispy bacon, cheddar cheese, crispy onion rings and tangy BBQ sauce.
Texas Steak-Burger
A 1/2 lb. juicy 100% pure Angus beef steak-burger topped with pepper jack cheese, deep fried jalapeno & onion straws. Served on a Kaiser bun with a side of southwestern sauce.
The Longhorn
A 1/2 lb. juicy 100% pure Angus beef steak-burger topped with smked ham, swiss cheese, fresh sauteed mushrooms and onions. Piled high on toasted marble rye.
Sweet Onion Steak-Burger
Fresh ground steak-burger topped with a delicious, sweet & creamy onion sauce, served on a ciabatta bun.
BBQ Pulled Pork
Slow roasted pork shoulder, hand pulled and slowly cooked with our signature BBQ sauce, topped with red onion & zesty coleslaw on a toasted bun.
Deep-Fried Perch
Lightly breaded lake perch, deep-fried golden brown, lettuce, tomato, tartar.
Red-Eye Reuben
Fresh sliced corned beef, swiss cheese, sauerkraut with thousand island sauce, it's all yours on marble rye bread.
The Rooster
Someone got upset at the alarm clock. Chick'n breast lightly dusted in our house batter and deep fried to seal in all the juices. Topped with American cheese and served on a Kaiser bun. Also available chargrilled.
Dixie Wrap
Classic sandwich wrapped in a flour tortilla. Choose from turkey, ham, or chicken with lettuce, tomato, red onions and your choice of cheese.
Alfalfa Desperado
A meatless veggie burger patty topped with Monterey Jack cheese, covered with sauteed onions and peppers.
Steaks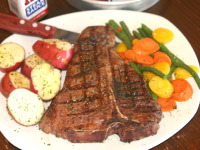 Chip's Favorite
12oz hand cut ribeye chargrilled, you won't find a steak this good any sooner than you could catch a weasel asleep!
Sam Hill Prime Rib
12oz prime rib seasoned & spiced down just right, so juicy you'll be as happy as the devil at a necktie social!
The Calico Queen
This choice 8oz filet is a bit smaller than the others, but has nice curves and is tender in all the right places.
The Auger
Mackinaw's Biggest Steak! A 20oz select cut porterhouse charbroiled and seasoned with the dough wrangler's best effort. Did we mention that it's big?
Baskets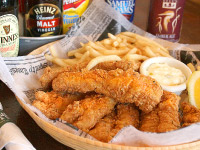 Fish & Chips
Our #1 Best seller! Over a pound!
Fills up the hungriest outlaw, fresh 100% cod fish from the drink, battered & deep-fried, tartar sauce, wedge o' lemon.
Basket O' Shrimps
Eighteen juicy, beer battered shrimp, fried 'til they're done, free tartar sauce.
Chick'n Strip Basket
Tender chick'n strips, deep-fried golden brown, served with Bar-B-Q sauce or ranch.